The current exhibition at the Benton County Historical Society's Philomath Museum, Water Works, looks at the sources and uses of water in our lives. Rain provides much of our water. And rain, at least, hard rain, means umbrellas. When researching the historical society's collection of umbrellas, I came across this beautiful one from Japan.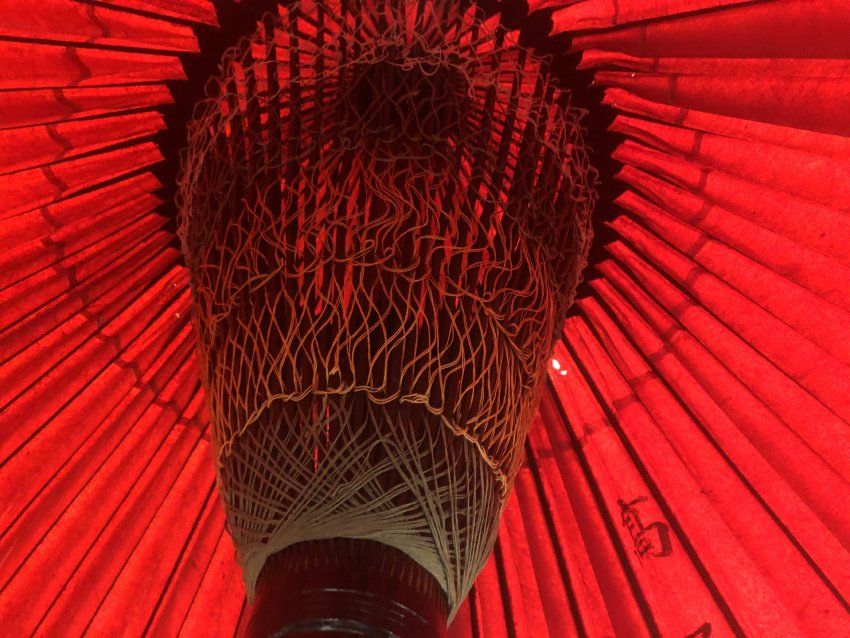 This umbrella (wagasa) is made from oil-coated washi paper and bamboo rbis or stretchers with a black-painted wood handle with bamboo grips. The intricate pattern of colorful interior strings is characteristic of this type of "janome" umbrella. It from the 1930s or 1940s and donated by Donald and Laura MaacKenzie who made at least two trips to Japan. Their son was an OSU graduate.
Introduced from China centuries ago, Japanese umbrellas became a symbol of expanding fortune and protection. Their circular shape also evoked traditional sayings associated with fulfillment and satisfaction. Traditional umbrellas such as this were hand-made by artisans, using between 50 and 100 parts and taking up to several months to complete.
Traditional Japanese culture had three types of umbrellas: a large on for very heavy rain, lighter-weight "Janome" or slender ones, and ones made for sun protection which were not water-proof.
Cataloger Julia Lyckberg also described the janome umbrella's role in wedding ceremonies.
"… is possible this wagasa was a part of a Japanese wedding ceremony. The structure of the umbrella as well as its bright red color, which is a symbol of good fortune in Japan, point to it likely being a component of a traditional Shinto or Buddhist wedding. The red Janome wagasa is meant to ward off evil as well as keep the bride dry if it is raining on the day of her wedding. The wagasa is commonly carried by a man trailing the bride. In some ceremonies, the father of the bride and the bride share a Janome wagasa as they walk towards the groom. Upon arrival, the father hands the wagasa to the groom to signify his trust for the groom in regards to his daughter. This ritual is known as "the Passing of the Umbrella"."