From 1924 to 1940, the Shelton family lived at 535 NW Fifth Street in Corvallis. Father Wilbur was part-owner of Corl's Book Shop in downtown Corvallis.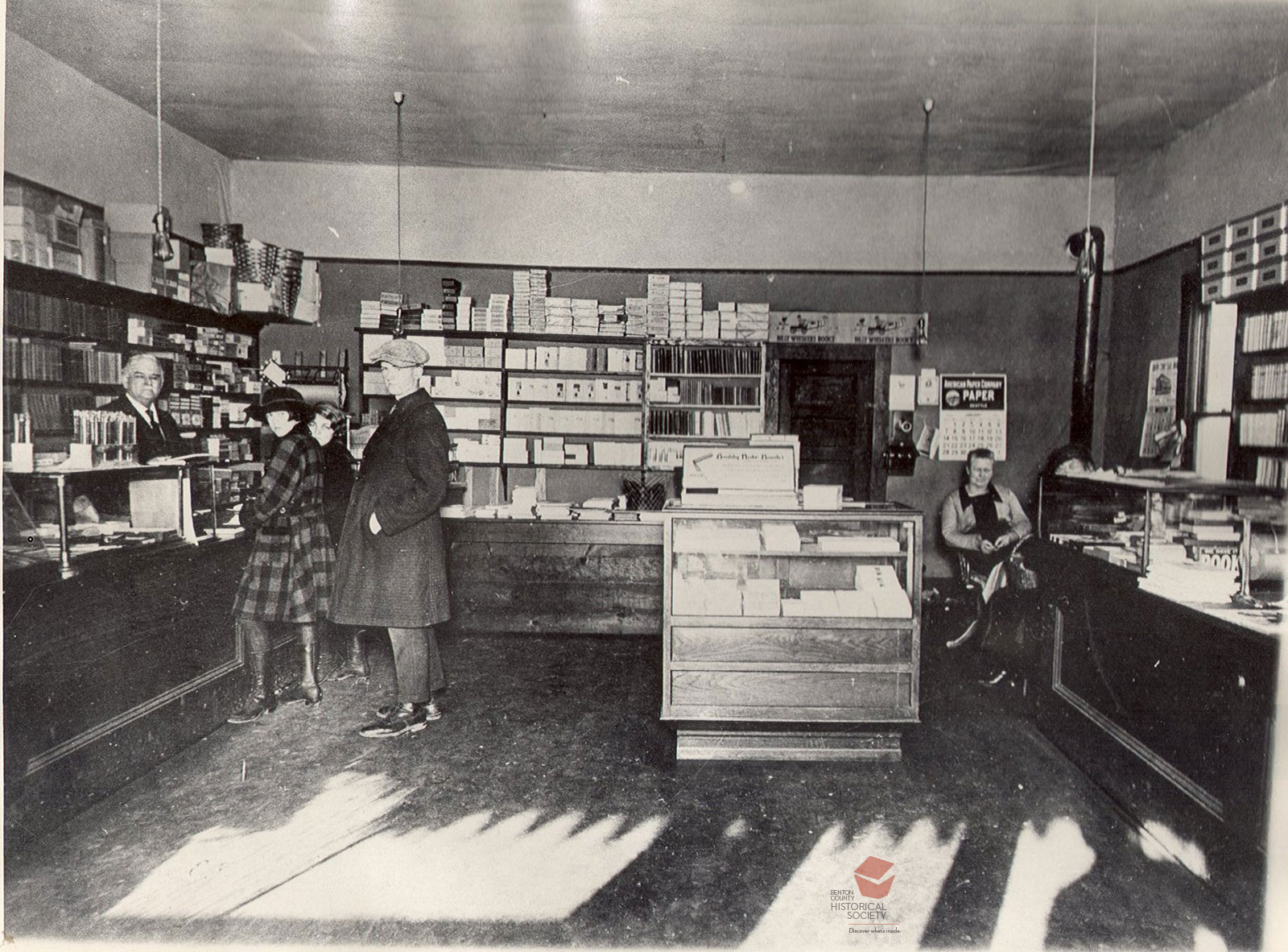 Mother Miriam Corl Shelton cared for her children—Ruth, Bruce, Cecile, Steven, Muriel, and Nancy—and participated in First Baptist Church activities.  Steven Shelton later wrote a memoir of his childhood, "The Old Neighborhood," which is in the museum's archive collection.
The neighborhood as he defined it consisted of the two blocks of 5th Street between Harrison and Polk. Tyler bisected the neighborhood. "Tyler was the road sometimes used by sheep farmers taking their flocks down to street to winter pasture, and occasionally by Gypsy wagons heading eastward to their encampment near the Willamette River just five blocks away."
He notes that 5th "was paved as far north as Polk, and east-west Harrison had just been paved. Tyler was yet to be paved, but was well-graveled from 2nd past Washington School to 9th.  Polk was also unpaved from 2nd to 6th, stopped by the railroad tracks in the middle of 6th…. Some hollows existed among the blackberry bushes alongside the tracks between Tyler and Polk in which some of the hoboes [sic] who came over to 5th to work for food were thought to occasionally stay."
"Car traffic was light, though occasionally prominent sidewalk contractor Heckendorf would drive down 5th in his spiffy Dodge Touring Car.  Evergreen trees abounded…and almost every household lot had from one to a half dozen fruit trees."
5th Street "north of Polk was a rutted trail through open land between the straddling houses facing Polk itself.  Apparently not farmed or used for pasture, this grassland was unfenced for quite a distance all the way to Dixie [Dixon] Creek (pronounced 'crick') and marked the northern extremity of our older residential section in Corvallis."
Shelton estimated that about 21 families lived on these two blocks of Fifth Street, "the majority in owned homes. The photograph below from circa 1920 shows some of the homes on the west side of the block between Tyler and Polk, across from the Sheltons. By the time of Steven's remembrances, (the 1930s) some additional houses had been constructed.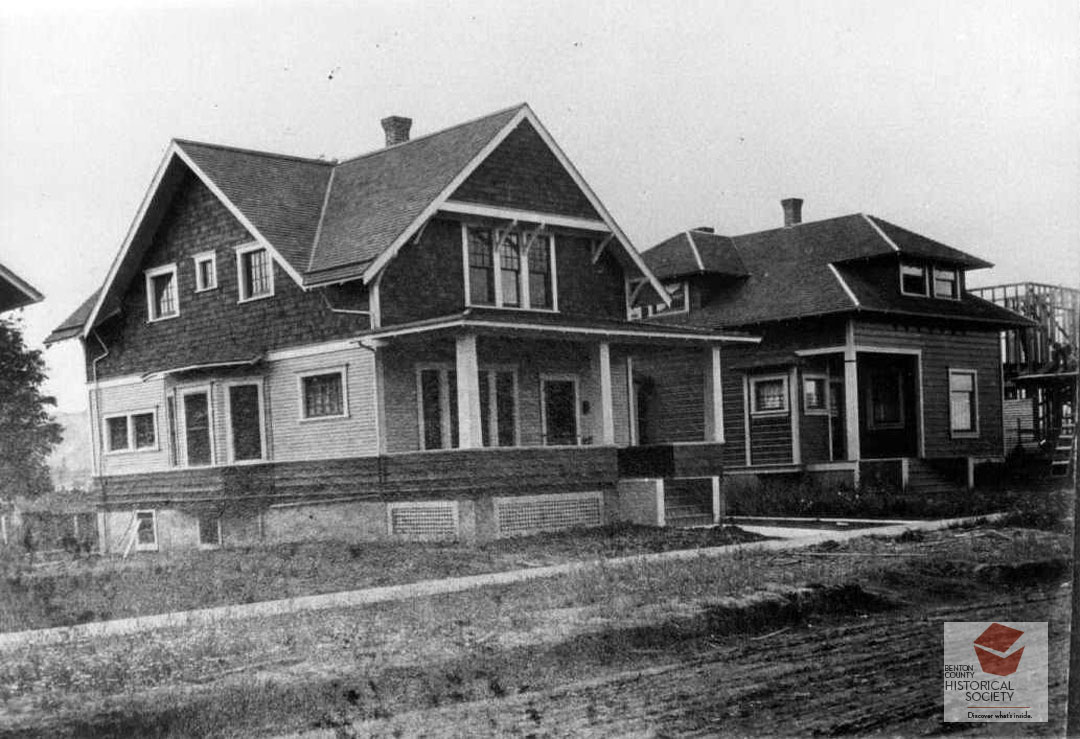 In addition to describing the physical characteristics of the neighborhood, Steven Shelton also described the people who lived there. In the block of the photograph were, from south to north, the following families: the Von Lehes, the Swartleys, the Walters, Mr. Putnam, the Furchners, and the Widmers. Mr. Von Lehes "sold cars at Rickard's Garage and mother Esther taught piano. The family auto was a new green 1935 Ford." They had two daughters, Eileen and Jean. Both were musical and active (Eileen as an "avid bicycler" and Jean as "active in street games").
The Swartley family lived north of them, at 510 N. 5th Street. "Father Claude was a water/sewer contractor keeping his equipment in a shed by the railroad tracts. Claude's bachelor brother, Arthur, a mining engineer, also lived there as did both grandmothers…" and children, John and Mary Francis. John is described as "short, stocky, liked dark clothes, played trumpet, avid bicycler, delivered papers, very effective in street games…good at football, had basketball hoop in driveway."
The head of the Walters family at 520 N. 5th was Horace, "a realtor and school board chairman [who] left the family and moved to California. Cheerful mother Beulah then took in boarders to help make ends meet." The children were Willard, Dorothy, and Mary Alice.
The next house was owned  by J. J. Putnam.   He was "a violin maker, and his high-quality violins were in demand—he sold one violin for the astronomical price of $200, equivalent to several months of income for the average music teacher. When widowed he moved into his violin shop on the back lot and rented out the main house.  Quite elderly, he was very friendly with any kids who showed an interest in his special violin-making skills or his stories of earlier years." 
The Furchner family, headed by James, a mechanic, contained two boys (Bob and Chick).
"On the northwest corner of 5th and Polk was the Mennonite Widmer family, possibly the most affluent family in the neighborhood with income derived from chiropracty.  They had new automobiles, one or more a Jewett, and also a player piano.  Their home had a large porch with swing.  Among the roomers was E. G. Lehman, principal of Washington School." The children were Clair ("outgoing, student body president, semi-athletic, ambitious"), Shirley ("cheerful, curled neighbors' hair for tips, surprisingly agile, good at oil painting…) and Jason ("animated, aggressive, devilish, fiery curly red hair, freckles, athletic, won pedigreed dog and small bicycle with balloon tires in milk bottlecap contest…").  
Steven Shelton also describes the families in the two houses that shared the east side of the block with his family and those who lived along 5th Street in the block between Tyler and Harrison. He estimated that in the 1930s about 35 children resided in these two blocks.  About 26 of them participated in neighborhood activities.  Those activities will be the subject of the next post.